Ososim supports its clients by bringing together experts from the worlds of gaming technology, artificial intelligence, neuroscience, learning design, organisational behaviour and corporate learning.
Who we are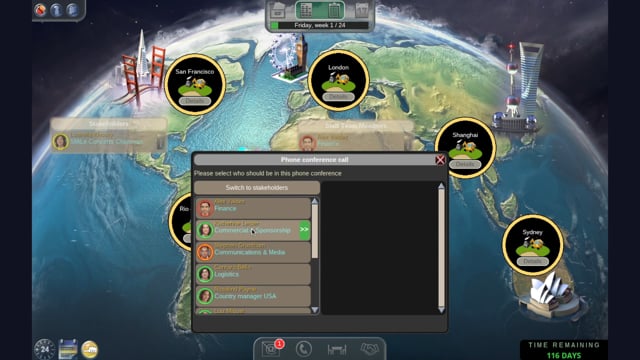 Play Video
The Team
Ososim is led by a team of experienced, diverse and inquisitive people who are passionate about the impact that effective learning, enabled by technology, can have on individuals, companies and the community.
Elisa has been designing and running educational business simulations, teaching executive management courses and facilitating leadership teams since 1990.  She has been involved with a wide range of simulation businesses from large corporates to entrepreneurial start-ups.
After starting her career in international corporate finance, she has specialised in simulations and experiential learning.  She has used, facilitated, and developed many different games and educational tools.  She particularly enjoys working closely with clients to create customised solutions and achieve exceptional learning outcomes.  
Elisa has a BA from Harvard University and an MBA from INSEAD, France.
Jonathan began his career in investment banking, working in Europe, North America and the Far East.  
Prior to becoming an entrepreneur, Jonathan spent over ten years as a management consultant, principally with Accenture, where he worked with companies, including Accenture itself, to define their strategy, align their organisation and their people, and execute their strategy.  He was part of the leadership team that established Accenture Learning.  
Jonathan has an MBA from INSEAD, France, an MA (Hons) from Cambridge University, England and Diploma in Corporate Finance from London Business School.
Jonathan has been President of the UK INSEAD Alumni Association and a member of the UK INSEAD Council.  He was additionally a founding committee member of the EU's eLearning Industry Group, a member of the Advisory Board of the B2B advertising marketplace dot com, ADazzle (now part of Comcast), past member of INSEAD's Advisory Committee for Management Education and Vice Patron of the charity Missing People.
Khurshed Dehnugara
Director
He leads Relume, a research and advisory firm working at the most senior levels of complex global organisations.
He specialises in working with the CEOs and Executive Teams of Challenger Organisations and is co-author of the book The Challenger Spirit – Organisations That Disturb The Status Quo.
He started his professional career in retail banking and then moved on to management consulting. Most recently he was CEO of a global telecoms consulting and research company, growing it seven-fold in 12 years including its sale, various acquisitions and international expansion.
He now provides consulting support on revenue generation, HR, finance and operational issues to businesses, is an angel investor and holds a portfolio of Non-executive Director positions.  He is a certified Business Coach, holds an Economics degree from Cambridge University and an MBA from the University of Pennsylvania.
Lynda Gratton, Professor of Management Practice at London Business School and founder of the Hot Spots Movement. She is considered one of the world's authorities on people in organisations and actively advises companies across the world.
Over the last decade Lynda has been profiled in numerous magazines including Personnel Today, The Guardian and the Financial Times. In 2007 Human Resources Magazine ranked her as one of the top two most influential people of the profession and she is regularly included by The Times as one of the world's top business thinkers.
Toby started out designing and creating computer games in the early 90s on a variety of
platforms before moving on to manage the production of the highly successful Creatures
games. Toby was co-founder and CTO of Fetch.ai, an ambitious project to create a self-
learning blockchain network.
He spent the first decade of the new millennium creating a biological inspired simulation
engine capable of delivering a world of incredible detail to thousands of simultaneous users.
Toby believes in providing software solutions where complexity emerges from the
interactions of simple components.
He was Chief Technology Officer of Ososim for five years and continues to provide advice on
emerging technologies, leverages his extensive experience to support the development
team and helps set the strategic direction of the business.
Kate Philips-Kaiser
Ososim Associate
Kate Philips-Kaiser is an international leadership coach and business founder with over 20 years of experience working with entrepreneurs, managers and teams from around the world.
As a certified coach, Kate has worked with hundreds of individuals and teams, providing the support and structure to understand their dynamics and drive better outcomes for themselves and their stakeholders. She founded her own business, AmphiMedia, to provide an innovative methodology and technology for facilitating reflection and social learning in executive development.
At the start of her career, Kate was a manager of Sales Operations and Marketing for Europe, Middle East and Africa with global telecom manufacturer Nortel, based in Paris, and previously as Coordinator of the Centre for Canada-Asia Business Relations at Queen's University in Canada.
Kate holds an MBA from INSEAD (1997), where she also completed the Consulting and Coaching for Change program (Diploma in Clinical Organisational Psychology) (2010). She also has a Bachelor of Arts and Science Honours (1994) in Economics and Politics from Queen's University, Canada.
Marie-Lys Leschiera
Ososim Associate
Marie-Lys has been designing and teaching executive education courses in various business institutions (HEC Paris, Emeritus, INSEAD, IMD) and multinational companies since 2006.
Drawing from her diverse background and intensive exposure to international environments, she brings a practical and down-to-earth approach to her courses, through the use of custom-made cases, exercises and/or management simulations.
Marie-Lys graduated as an engineer from Ecole Nationale Supérieure de l'Aéronautique de de l'Espace (SUPAERO) in Toulouse (France) and holds a business degree from this school.
Tom Ryan
Ososim Associate
Tom is an international business consultant and educator with 35 years of experience and expertise covering strategic planning, business development and financial management who works with senior leadership teams at knowledge-based people organisations to deliver strategic and financial results.
His professional experience includes time with E&Y and PwC, financial management positions in a variety of industries, management consultants AT Kearney in New York and leading the company-specific executive education business London Business School.
His has taught courses at London Business School, Chartered Accountants Ireland and international development programmes in the former Soviet Union.  He has written case studies in accounting, finance and new venture development.
Tara Swart
Ososim Associate
Tara is the only leadership coach with a PhD in neuroscience and a successful career as medical doctor behind her. This unique combination of experience comes together to create an uncompromising and holistic impact on performance optimisation in businesses in the UK and USA.
Tara is at the forefront of the application of neuroscience to business and is passionate about disseminating simple, pragmatic neuroscience-based messages that change the way people work and sustainably translate to tangible financial improvement in the business.
She is a published author of a book and over 20 articles in journals of neuroscience and coaching. She speaks globally on the brain in business at international conferences, blue chip corporations and at top business schools including Oxford, Stanford and MIT.
Paul Ward
Ososim Associate
As an Executive coach and trainer, Paul focuses on the key motivational drivers of individuals and teams. As a Master Practitioner and trainer of NLP and a Licensed Trainer of Motivational maps, with over 20 years of management experience, Paul uses Motivational Map technology to unlock what really drives people at work and in life.
Paul works with individuals and teams to develop improved engagement and motivation through positive communication and influence. He also works with other coaches and consultants in helping them grow opportunities with their clients.
Craig has more than twenty-five years international experience in the design and delivery of leadership development initiatives.  He also assists intact teams to take their performance to the next level and coaches senior executives.  Many of the groups he works with consist of participants from a variety of cultural backgrounds.
Craig is skilled at striking a dynamic balance between facilitating and instructing.  He is able to challenge and stretch participants while simultaneously creating a secure space for experimenting with new approaches.
During his business career, Craig worked for John Deere in marketing and product support roles in the US, Europe and the Middle East.  Craig holds US and Belgian nationalities and has lived and worked in the US, the UK, Greece, Germany and Belgium.  He also has significant work experience in Turkey, the Middle East, East and Southeast Asia and Australia.
After receiving his undergraduate degree from Rice University, Craig gained practical leadership experience as a US naval officer.  He received a scholarship for a year's graduate study at the University of Cologne. Craig attended a joint MBA program at SMU and Thunderbird.
David Dinwoodie
Associate
David has held senior management positions, with pan-European and global responsibilities in Ernst & Young, BICC General Cable, Planeta de Agostini and Bristol-Myers Squibb. He is an expert in leadership development and strategic management and brings over 25 years of international business experience.
David held the positions of Executive Director of ESADE Executive Education and General Manager of EADA Business School. Previously, David held the position of Vice-President of Global Leadership Solutions at the Center for Creative Leadership© (CCL©). He managed CCL's global portfolio of Open Enrolment Programs, Corporate Learning Solutions, Coaching and Assessment Services across 12 campuses worldwide.  As a faculty member and executive coach, David has designed and delivered leadership development engagements for global clients across the Americas, Europe, Middle East and Asia.
David holds a Master of International Management from the Thunderbird School of Global Management and earned an MBA from ESADE Business School in Barcelona. His doctoral degree in the area of Organizational Psychology is from Aston University (UK). His research activities are centered on organizations engaged in internationalization processes that seek leadership strategies to create performance-oriented cultures.
David is co-author of the book Becoming a Strategic Leader: Your Role in Your Organization's Enduring Success. He was the recipient of the EFMD Excellence in Practice Gold Award for the program Accelerated Leadership for Transformational Change together with the Mars Corporation.
After completing his bachelor's degree in Biomedical Engineering at Ulster University, Conor went on to receive a Masters of Software Development at Queen's University Belfast.  After completing his Masters, he joined Ososim in January 2022. 
He has worked previously as a Quality Engineer in orthopaedics manufacturing with Stryker Corporation, and after completing his undergraduate took a gap year to work as a camp counsellor and teacher in the United States. 
His interests include engineering, computer science and machine learning.
Chris joined Ososim in 2019 from Coventry University, where he received a BSC in Computer Science.  He had several years prior experience on software development projects.
Chris works with clients and partners to provide technical and operational support. He has strong programming skills which contribute to the ongoing development of the Ososim platform.
Tim is an experienced C++ developer and is a Senior Software Developer in the Ososim technology team.  
He has more than six years' experience with C++ as well as a year's experience teaching C++. 
Tim has an MSc in Games Programming and a BSc in Computer Science from Hull University. He has been developing games for 20 years, and previously worked as a Programming Analyst where he was developing CAD/CAM software using OpenGL.
After graduating with a first-class Bachelor of Arts degree from Nottingham University, Caroline began a career in FMCG marketing. She spent several years working on high-profile, global brands in food and drink, followed by marketing for skincare and nursery products in family-run companies and luxury brands.
Turning her skills to B2B marketing, Caroline now specialises in marketing communications, helping companies build relationships with potential and existing customers through the complete marketing mix, including digital marketing, PR and social media. Caroline leads our marketing communications, utilising the complete marketing mix to develop our customer base.
Dr. Lim Peng Soon
Associate
Peng Soon is the President of Learning & Performance Systems. His area of expertise is in the human side of organisational change – the transition processes that occur at the individual level. He also designs and delivers workshops on leadership development and coaching. 
Dr. Lim holds a doctoral degree in education and human development from The George Washington University. He is the recipient of the 2004 Ralph Upson Stone Award for the best doctoral student entering the dissertation phase of the doctoral studies "who possesses academic excellence, and who represents and actualizes the self-less development of others". Dr. Lim brings with him 30 years of experience in human resource development and does consulting work in both the private and public sectors.
Sean is the founder and director of Pygmalion, a South African based Organisation & Leadership Development consultancy and coaching practice.  He has more than 26 years' experience working with executives to conceive and implement strategies and execution plans and practices in support of their business and organisational goals.  With a client base across Africa, Sean has extensive experience in using digital platforms and online tools to support learning.
Sean holds a Master's Degree in Psychology, is registered as a Counselling Psychologist and a Board Certified Coach.  He is also a certified practitioner across a range of psychometric assessment instruments and a Global Associate with the Center for Creative Leadership.
Edyta is the founder member of the Polish chapter of International Coach Federation, where
she was also a board member from 2005 to 2006. She is a licensed Team Coach with TCI
and licensed user of psychometric tools such as: OPQ32, Dimensions, Psytech, EBW, PRISM
and MAPP, WPB5, Thomas TEIQue. In her work as team coach and facilitator she uses
business simulations and specialises in helping organisations transform into more agile ways
of working in VUCA world. She is passionate about AI and future trends.
Edyta has an MA in linguistics and an MBA (1996). She has started her professional career
with Company Assistance Limited working on two sector privatization projects and then
worked in M&A. She subsequently spent eight years working for multinational companies
(Unilever, Janssen-Cilag, Pepsi Cola International) where she was HR Manager and then HR
Director. One of her last corporate projects was leading the communication and HR aspects
of the Pepsi and General Bottlers merger.
For the past twenty years as a coach and consultant, Edyta has worked for companies
including Raiffeisen Bank Polska SA, VW Bank Polska, Media Express, Beiersdorf Lechia SA,
Macro Cash & Carry, DEC-GATX, Henkel, Danone, Philip Morris, Avon, Kraft Foods Polska,
Allianz, Aviva, Axa and Nestle SA. Her speciality is in team effectiveness and organisational
development. She is extremely successful in solving crisis situations in teams especially
conflict mediation and facilitation of difficult processes.
Joseph works with organisations to imagine preferred futures, design sustainable experiences, and engage leadership for systemic change. He is a co-founder of MakeOurFuture, a platform cooperative that brings together a global network of seasoned practitioners to empower organizations to accelerate the transition to more sustainable practices. Before focusing on futures, Joseph was a workplace architect, digital transformation advisor, and leadership development facilitator.
As a consummate learner, Joseph has co-authored 4 books exploring the future of the workplace, entrepreneurialism, and transformation. He is a passionate educator, leveraging his thought leadership as a Professor of Innovation, Design and Leadership at the Politecnico di Milano and Parsons The New School for Design.
Leon works with C-suite Executives of global organisations to enable behavioural change across all levels of management to accelerate the successful delivery of their strategic priorities. He has over 15 years of experience in designing and facilitating simulation-centric business acumen and leadership development programmes for FTSE 100 and Fortune 500 companies.
Leon's main areas of expertise are in leadership, innovation and organisational trust in the hospitality, pharmaceutical and FMCG industries. His practical leadership experience stems from a successful career in FMCG and Pharmaceuticals, where he was accountable for strategy execution and organisational development.